Main

Tecnopol CATALOG

Tecnofloor

TECNOFLOOR Tw-3040
TECNOFLOOR Tw-3040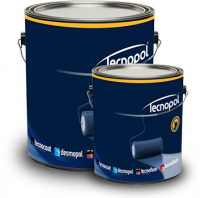 TECNOFLOOR Tw-3040
WATER BASED EPOXY COATING
Pigmented and fluid coating, water-based with medium chemical and mechanical resistance, presented in two-component, indicated as finishing in industrial floors and road tracks.

Technical Data sheet of TECNOFLOOR Tw-3040 (.pdf)
USES
Concrete floor surface finishes in workshops, garages and warehouses requiring medium mechanical properties.
As protection against spills and aggressive chemicals.
Floor surfaces that require non-slip textures (multilayer application).
Garage floor surface finishes.
May be applied on concrete in general (interior areas).