Pagrindinis puslapis

SISTEMOS

HIDROIZOLIACIJOS SISTEMOS

Swimming pools, fountains and water parks
Swimming pools, fountains and water parks
DESMOPOL and TECNOCOAT continuous systems offer a perfect watertight finish with no joins or overlaps as well as complete adhesion to the surface. Easy application and an infinite range of finishes allow endless possibilities for the construction or renovation of swimming pools, fountains and water parks.
New build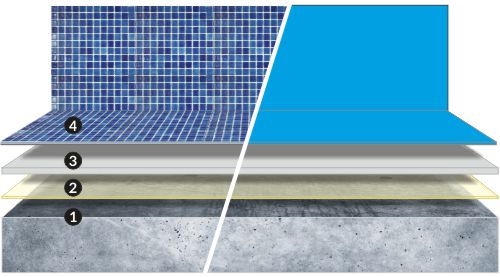 1 SUPPORT PREPARATION
Swimming pools, fountains, ponds etc. can be completed with a wide range of finishes on a variety of underlying surfaces (mortar, concrete, traditional waterproofing sheets, acrylic paints, ceramics and even wood…) using a few simple preparatory steps.
2 PRIMER
A primer resin should first be applied to ensure adhesion.
3 WATERPROOFING MEMBRANE
The TECNOCOAT or DESMOPOL membrane will then be applied directly over the primer.
4 CAPA DE ACABADO
As this is an aromatic membrane it will be necessary to protect it with a finishing coat. Depending on the desired appearance there are a number of available options: TECNOTOP 2CP, mosaic tiles, ceramics, etc.